---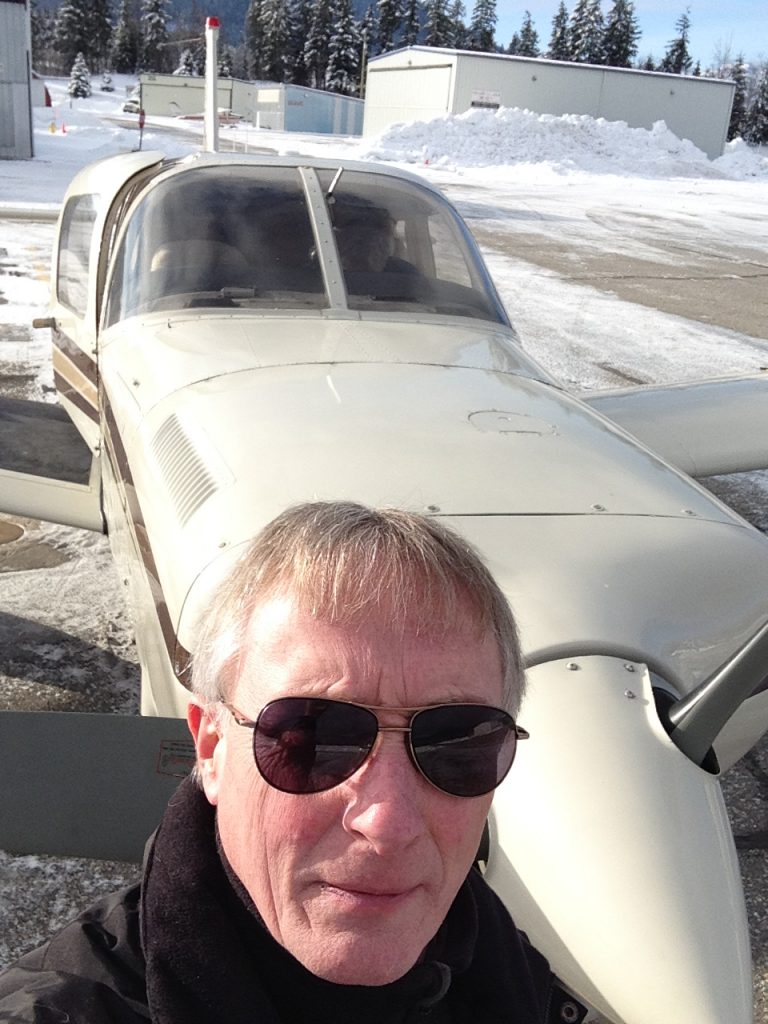 Effective immediately, all students and flight test candidates must provide proof of being double-vaccinated prior to taking any dual instruction or flight test.
Effective November 1, 2021, all rates increased , due to the cost of everything going up at a phenomenal rate.
See below for COVID information.
Who am I? I am a career flight instructor with over 3 1/2 decades and 13,000 hours of experience. I am based in Salmon Arm, British Columbia and Whitehorse, Yukon. All of my experience is single engine VFR. I have provided flight training on over 50 types of aircraft.  I am semi-retired and am currently working in a freelance capacity.
Being a freelance instructor means that I do not own or operate aircraft for flight training or testing, but I am available to provide training on your aircraft.
Here's a short list of the types of training I can provide: recreational pilot permit, private and commercial pilot licenses, instructor ratings, aerobatics and aerobatic instructor ratings, type checks, tailwheel checkouts, recency training, reactivating an inactive license, insurance checkouts, rust removers, seminars etc.
I am also a Transport Canada Pilot Examiner.  I can do flight tests for recreational pilot permit, private pilot licence, commercial pilot licence and instructor rating (class 2, 3 and 4) in the Prairie and Northern Region and Pacific Region.
I recently added a page called Real World Flying Lessons.  These are my thoughts and recommendations, based on plenty of experience, that I hope can improve some problematic maneuvers on flight tests and keep you out of trouble in your general flying. This section is NOT intended to replace the POH, FTM or FTG, but rather to address common issues I see in flight tests and flying in general. It is intended for students, instructors and licensed pilots. Check back often.  I'll be adding new maneuvers regularly.
You will see various images of a Boeing Stearman on these pages. This is because I have a summer position with Great River Air in Dawson City, Yukon, flying tours and rides in the lovely old biplane from May to September from the Dawson City airport.  (For summer 2021, the aircraft was based in Whitehorse.)
Not a bad gig for a summer job, eh? The down side is that my availability for freelance instructing and flight testing during the summer is reduced considerably. I am not taking any new students for RPP, PPL, CPL and Instructor Rating at present, although I am available for flight tests and smaller instructing jobs such as recency training and type checks. Please contact me for more information.
Now the unavoidable COVID19 information: one positive thing during this uncertain time is that flight schools are all quite busy. Flight training is about the ONLY segment of aviation that is busy at this time.  It's a bit of a head scratcher as to why this is so, but I'll take it. Please book your flight test well in advance. My dance card is almost full.
In addition to regular protocols in place at all flight schools, I expect that masks will be worn during all flight tests and all freelance instructional flights.  Please don't forget to bring one.
In addition: effective immediately, all students and flight test candidates must provide proof of being double-vaccinated prior to taking any dual instruction or flight test.