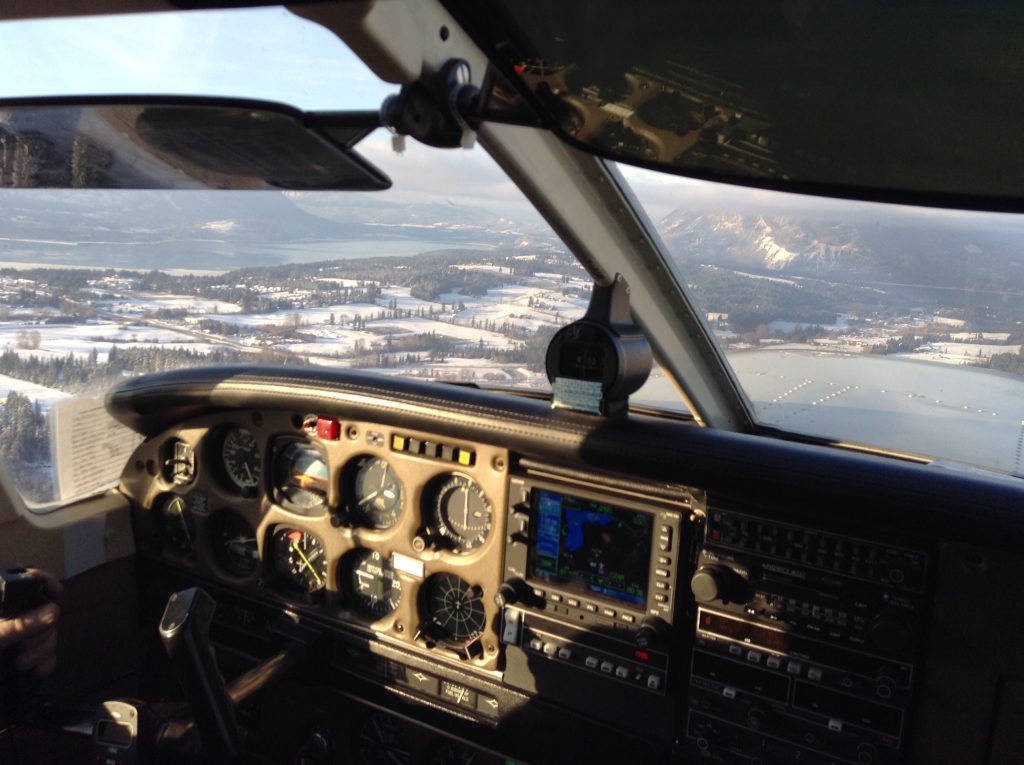 The following information is intended to answer the most common questions about getting started in flight training, and to help you to get the most out of the training process.  It is applicable for persons training for the Recreational Pilot Permit, Private Pilot Licence or Commercial Pilot Licence.
Please be aware that I am a freelance instructor.  This means that you supply the aircraft.  Please see the information on Aircraft Requirements.
The Medical Exam.

Prior to commencing your flight training, you must have a medical exam.  This exam is at your own expense.  The type of medical exam depends on the type of licence you are training for.
For the Recreational Pilot Permit, you must have a category 4 medical certificate.  To get this, a medical declaration form must be signed by a doctor (any GP will do), and then sent to Transport Canada.  Here is a link to the Medical Declaration form.  Your regular family doctor can sign the medical declaration.  If you are over 40, an electrocardiogram will be required.
For the Private Pilot Licence, a category 3 medical certificate is required.  A medical exam must be done by a Civil Aviation Medical Examiner.  The doctor has the required forms for you to fill out.  After your medical exam is complete, the doctor will send the report to Transport Canada, after which you will be issued a Medical Certificate.  This process can take 4 to 6 weeks.
For the Commercial Pilot Licence, a category 1 medical certificate is required.  If you are planning on training for this licence in the future, it is best to get the category 1 medical rather than the category 3 medical prior to starting your Private Pilot training.  This will help avoid unpleasant surprises.
Use this link to find an aviation medical examiner near you
Books and Materials.
Before your first flying lesson, you should purchase your books and materials.  This package contains all of the books and equipment that you will need for your training.  It is best to purchase the materials in advance, as you will be asked to do some reading before your first lesson.  Visit www.vippilot.com  or another Canadian supplier to order.
You will need the following:
Flight Training Manual
Personal Logbook
Pilot Training Record
ICAO ruler
Douglas protractor
E6B style flight computer (mechanical or electronic version, or smartphone flight computer app)
Canada Flight Supplement
VNC chart for your geographical area (And VTA if one is available.) (Contact me for more info.)
Flight Manual or Pilot's Operating Handbook for your aircraft.  This must match the exact model year. (May be difficult to find for older aircraft.  Contact me.)
Groundschool textbook such as From The Ground Up
Preparation for your lesson.

In preparation for each flying lesson, you will be assigned material to read, generally from the Flight Training Manual and Pilot's Operating Handbook.  It is very important that you read this material, as it relates directly to the upcoming lesson.  This will make the lesson more meaningful. In addition, proper preparation is a very effective way to keep the cost of your flight training down.  As you read the required material, write down any questions that you may have so that you may ask me at your next lesson.  You will be discussing what you have read with me prior to each flight.
The Lesson.
Please bring all of your books and materials to each lesson, as well as a notebook, pencil, and a pocket sized notepad for use in the airplane.
Each flying lesson is preceded by a review of the previous lesson, and a brief discussion of new material to be covered.  Be prepared to answer procedural (how-to) questions about maneuvers learned during previous lessons, as well as to discuss your reading assignment for the current lesson.
After the briefing, you will perform pre-flight duties as required, proceed to the aircraft and go flying.  For a typical lesson, you will be in the air for about one hour, during which you will practice previously learned maneuvers, followed by new material.
After the flight, there will be a short debriefing of items covered in the air.  Reading and review material for the next lesson will be assigned.
Payment.
I charge my hourly rate for ground and air time.  This includes solo supervision.  I generally require payment at the conclusion of each flying day.  I accept cash and e-transfers.  No checks or plastic, please.
Groundschool.
I don't offer groundschool courses.  You will need to sign up for one of the many available on-line groundschool courses.  I will recommend several choices.  It is important that you sign up for a Canadian course.  Alternatively, you may sign up for a groundschool class at any flight training school.  Being face-to-face with a groundschool instructor is preferable to an online course in my opinion.
The groundschool course covers the academic side of your training, and is intended to supply you with the knowledge required to pass the final written exam with Transport Canada.  You will learn about navigation, meteorology, regulations, aircraft systems, aerodynamics etc.
It is expected that you will be doing flight training and groundschool concurrently.  Taking groundschool with the intention of doing flight training at a later date is not recommended.
Aviation Language Proficiency Test.

You will be required to demonstrate proficiency in English.  If your first language is not English or French, you will be required to complete a language proficiency test.  I will help you locate an examiner.  The test is generally done over the phone.  A fee is charged for this test.  Students whose first language is not English should speak to an examiner for an unofficial assessment before commencing training, as some language upgrading may be necessary.
Students who completed high school or attended post-secondary education in English or French in Canada are eligible for an informal test administered by the pilot examiner at the time of the flight test. There is no charge for this.
Going Solo.

Average recreational and private pilot students will be ready for solo flight after about 15 hours of flight training.  Before you go solo, you will need to have a Student Pilot Permit.  The permit may be issued as soon as you have met all of the following requirements:
Obtain a minimum of 90% on the pre-solo (PSTAR) written exam.  See this link for the study guide.  The exam is done with me.  I charge my usual hourly rate for sitting the exam.
Write the exam for the Restricted Radiotelephone Operator's Certificate.  See this link for the study guide.  You will need to find an examiner in your area.
Be in possession of a Medical Certificate or Medical Declaration (see The Medical Exam, above).
Have obtained the necessary skill level to go solo.  I will sign your logbook and training record to this effect at the appropriate time.
Supply me with a copy of your birth certificate or valid passport to verify age and citizenship.
You will need to find a Transport Canada Authorized Person to issue the Student Pilot Permit. Most flight schools have one available. They may be able to do the radio exam as well.
Transport Canada publications you will need.

Please download and print the following documents:
For those seeking the Recreational Pilot Permit:
For those seeking the Private Pilot Licence:
For those with a Private Pilot Licence, starting training for the Commercial Pilot Licence:
No Show Fee.

Please try to give me 24 hours notice if you have to cancel your lesson.  If you fail to show up for your lesson without advance notice or a Really Good Reason, you will be charged a $100 no-show fee.  Weather-related cancellations are exempt from this fee.
Some Hints.
One of the best ways to save money in flight training is to be prepared.  This means coming to your lesson rested, fed, undistracted and having read the assigned material.
Another way to save money is to fly often.  Several times a week is best, as recently learned material will still be fresh in your mind.  If your lessons are weeks apart, a larger portion of each lesson will be spent in review.
Take notes during briefings.  This will aid your review time at home.
After each flight, go home and mentally review the flight.  Sit in a chair in a quiet place and visualize yourself doing the maneuvers you practiced in the air.  Visualization is a more effective form of review than explaining the maneuver to yourself verbally or reading about the procedure.
Many maneuvers that you will learn are procedural.  You must spend the necessary time at home rehearsing and memorizing these procedures.
Write down any questions that you have, and bring them to my attention at your next lesson.  If you can't wait, please feel free to call me.
If you have any concerns about how your flight training is progressing, please ask.  Please don't try to compare your progress with that of other students.  Each of us learns at our own rate and in a slightly different way from everyone else.  Comparison with others is not a valid way to assess your progress.
Since flight training is a hands-on endeavour, you will learn by doing.  You will be given full control of the airplane very early in your training.  It is important that you fly the aircraft as independently as you can, even though you may feel you lack the required skill level.  I will not let you hurt anything and will guide you as required, but will try to fade into the background as soon as I can.
Remember that YOU are the boss of the airplane, not the other way around.  You are NOT going for an airplane ride.  Fly assertively and positively.
Do not neglect the academic side of flight training.  Set aside time at least equal to your flying time for studying groundschool, preparation for the various exams, and the assorted knowledge areas associated with flight training that will be assigned to you throughout the course.
Flight training is like acquiring knowledge through a fire hose.  There is a lot of material to learn, and many skills to develop.  Always allow sufficient time for study.  Putting time pressure on yourself is a good way to become frustrated and disillusioned.
Flight Training Myths.

"If I log 45 hours in the airplane, someone will hand me a pilot's licence."
The truth:  There is MUCH MORE to obtaining a licence than logging the required minimum hours.  First, the average completion time for the PPL with me is 57 hours.  (This is well under the national average.)  In addition, each hour in the airplane is accompanied by at least another hour of pre and post flight preparation, briefing and debriefing, and yet another hour or more of self study.  Then there are 60 hours of groundschool.  Each hour of groundschool is accompanied by another hour or more of self study.  So the mythical 45 hour figure has now become at least 291 hours.  Add to this the study and preparation time for both the flight test and written exam, the "final polish" if you like, and the total time commitment is more like 300+ hours.
"If I fly 2 hours a day, I'll get my licence in 23 days."
The truth:  See #1 above.  If you can spare 2 hours a day, count on 150 days plus weather delays.  If you spend 8 hours a day training, count on 8 weeks plus weather delays.
"Once I am ready to go solo, I'll just fly around and log hours."
The truth:  All solo flights are supervised, closely monitored and occur at set times during the course.  You will log only 12 hours of solo during the course.
"My friend/relative who is an airplane owner will show me how to fly. Then I just need  an instructor to sign off my hours."  Or "Then I will be WAY ahead."
The truth:  Flight training time cannot be logged in this fashion.  It will not count toward the licence.  My experience is that this type of flying results in many misconceptions, bad habits, incorrect procedures and pet theories which have to be unlearned, resulting in a net loss rather that a net gain. In addition, your friend/relative is providing an illegal service and could face a fine or a licence suspension.
5:  "If I borrow my friend's airplane, I'll save $$$$."
The truth:    I cannot provide training toward the Private Pilot Licence in third party aircraft.
6:  "The written exam is impossibly difficult."
The truth:   It isn't.  It's just a necessary evil.  Everyone does it, and everyone passes.  You will be well prepared and will have written several practice exams before you attempt the real thing.  Just set aside the necessary study time.  The questions are multiple choice, and there is no math, physics or engineering knowledge required, just normal reading and comprehension skills.